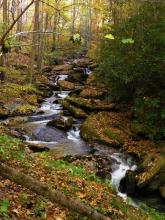 Join the NC High Peaks Trail Association for a challenging hike on the Black Mountains on Saturday, March 11th.
The 8-mile hike is rated as strenuous and will only be open to fit, experienced hikers. The trek will include some bushwhacking over tough terrain and an elevation change of 1,500 feet.
The group should get treated to excellent views to the east and north as they make their way from the Black Mountain Crest Trail along a north-facing ridgeline.
Bring lunch, snacks, plenty of water, rain gear and hiking poles in you use them.